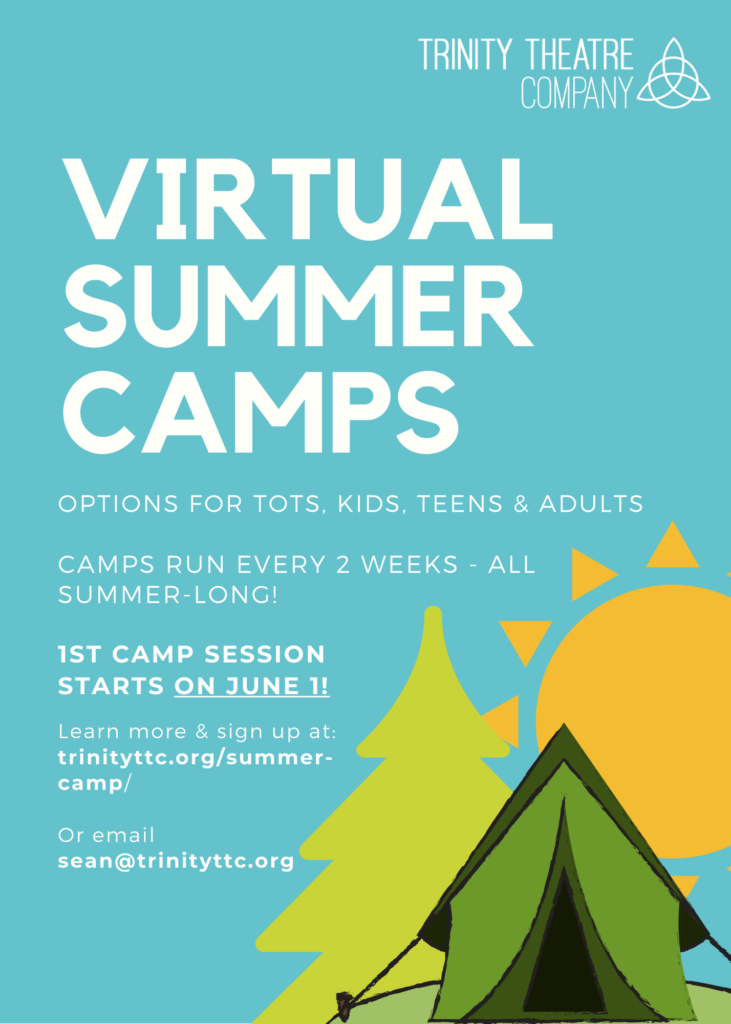 Come play with us this summer with Trinity Theatre Company's Virtual Summer Camps!
For the past 2 months, we've enjoyed navigated the challenges of bringing theatre and Arts Education to tots, youth actors, and adult performers via ZOOM. And we are excited to continue doing so through the summer with our Virtual Summer Camps!
In addition to our traditional format of show-based camps (similar to what we've been doing for Youth Zoom Theatre), we'll also be offer skill-based summer camp options for performers who are looking to grow and go deeper in their art.
All Summer Camps will be led by our teaching staff, including Mr. Sean & Ms. Kandace, and conducted 100% over Zoom.
(Trinity Theatre Company has decided to keep ALL our summer camps at this time 100% virtual and conducted over Zoom. We believe this is the safest option for participants – and after working hard to perfect the art of Zoom theatre over the past few months, we are EXCITED to continue on with this new, highly accessible format! Read more about our response to COVID-19 here.)
Check out a full breakdown of ALL Summer Camp options below:
To Enroll in our Virtual Summer Camps:
1. Head to our Registration page here (or manually enter https://app.arts-people.com/index.php?class=tott into your browser)

2. Select which Age Group you'd like to enroll in for Summer Camp (Tots, Kids, Teens, or Adults.) If you have kids in multiple age groups, you will have to enroll them separately, BUT make sure you are taking advantage of our "Sibling/Same Household Discount! ($15 off for Tots, and $25 off for Kids, Teens & Adults) Email or call Mr. Sean to redeem.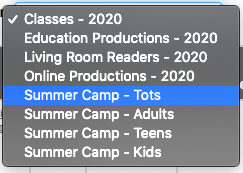 3. Select which Session you'd like to enroll in. Note that for both Kids & Teens, there are TWO session types available – Show & Skills. These sessions will run at different times on the same days for each session, so your child CAN take both, if they'd like!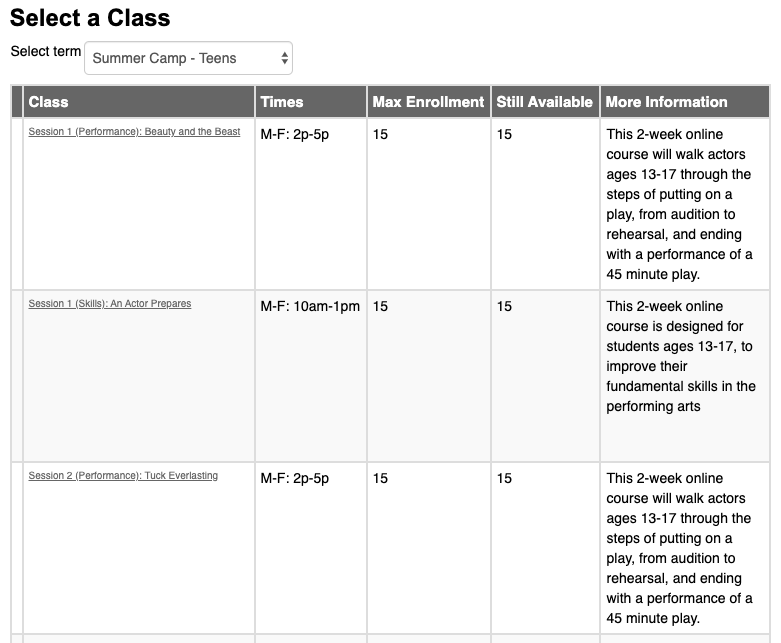 4. Follow the steps to complete your enrollment. All sessions must be paid for upon registration.
 Summer Camp Discounts & Scholarships
Take advantage of discounts!
BEST VALUE: Register for more than one session at once and take advantage of bulk registration discounts. See breakdown below:

Use coupon codes Bulk2 (For 2-4 session registration) or Bulk5 (for 5+ session registration). Register for as many sessions at once as you'd like! These Camps will fill up, and we don't want you to miss out.
In addition, register a week before each session begins and you can lock in the "Early Bird" discount, which takes $20 off single-session registration. Use coupon code EARLY10.
If you're enrolling multiple students at once, either as siblings for families or same-household for adults, you can take advantage of our "Sibling Discount" which takes $15-25 off enrollment, per single session. Email sean@trinityttc.org to redeem.
For bulk registration or registration questions, contact Sean Boyd at sean@trinityttc.org, or call directly at 619-838-7233 to process over the phone.
We hope to see you at our virtual camps this summer! Let's make magic happen – together!
*No refunds after the first day of class.
**Artists and pricing can change without notice. Registration is subject to availability.
***Early Bird Siblings take an additional $15 off
****Scholarships also available. Email Mr. Sean at sean@trinityttc.org to inquire.