TRINITY THEATRE IS PROUD TO PRODUCE THE MORBIDLY HYSTERICAL COMEDY:
ARSENIC AND OLD LACE
Performances Beginning Friday, June 15, 2018
Running Through Sunday, July 1, 2018
Directed by Siri Elena
About The Show
SAN DIEGO, CA – Trinity Theatre is proud to continue its 2018 season (Season VI) with the morbidly hysterical comedy: ARSENIC AND OLD LACE. Mortimer Brewster thinks he has it all. A loving girlfriend, sweet aunts, and a lovely home. But, when his brother comes home, this dark comedy takes a turn for the worse. Buy your tickets today!
Siri Elena directs local actors Christine McCoy, Anna Sandor, Joshua Kahn, Sara Lucchini, Doug Henderson, Cassandra Orrantia, Katelyn Slater, Karen Luna, Ashley Stewart, Mark Solz, Maxine Levaren, Dillon Thomas, and Richard Costantinou. The design team includes Kathy Parks and Sharonfaith Horton (ASM / props), Sarah Robinson (Costumes), Ray Leonard (Scenic), Jacob Golden-Needham (Lights) and Mason Pilevsky (Sound). Sean Boyd is the Stage Manager. Photography by John Gray III and Christopher Siefert. Arsenic and Old Lace is written by Joseph Kesselring, and produced by special arrangement with Dramatists Play Service, Inc.
ARSENIC AND OLD LACE previews on Friday, June 15, 2018. Opening Night is on Saturday, June 16, at 7pm. The show will play Fridays and Saturdays at 7pm, and Sunday matinees at 2pm, through July 1, 2018. Trinity Theatre Company is located at 930 Tenth Avenue, San Diego, CA 92101. Tickets: Preview is $18; Opening $28; Closing $23; All other performances: $21. Students, Seniors, and Military tickets are all $3 off admission. Call 619-269-9283, or visit https://app.arts-people.com/index.php?show=81031 to purchase tickets.
Fact Sheet
WHAT:
TRINITY THEATRE COMPANY presents
ARSENIC AND OLD LACE
By Joseph Kesselring
Directed by Siri Elena
CAST:
Sharonfaith Horton (Abbey), Anna Sandor (Martha), Joshua Kahn (Mortimer),
Sara Lucchini (Elaine), Doug Henderson (Jonathan), Cassandra Orrantia (Dr.
Einstein), Katelyn Slater (Teddy), Karen Luna (Rev. Dr. Harper), Amy Marie Bowersox (Brophy), Ashley Stewart (Klein), Maxine Levaren (Gibbs), Dillon Thomas (O'Hara), Richard Costantinou (Dead Man)
WHERE:
Trinity Theatre Company
Presented at the Tenth Avenue Arts Center
930 Tenth Avenue
San Diego, CA 92101
SCHEDULE:
Preview: June 15, 2018
Opens: June 16, 2018
Closes: July 1, 2018
Fri. & Sat. @ 7pm, Sun @ 2pm
PRICES:
Preview $18.00
Opening Night $28.00
Closing Night $23.00
All other performances $21.00
DISCOUNTS:
Student, Senior, and Military receive $3.00 off admission.
Groups of 7-14 qualify for discounts of 15%
Groups of 15+ qualify for discounts of 20%
For student or non-profit groups of 10+, please call the box office at (619) 269-9283
**Please note that discounts cannot be combined**
BOX OFFICE:
(619) 269-9283 or www.trinityttc.org
PERFORMANCE CALENDAR AND BIOS ON FOLLOWING PAGES PERFORMANCE CALENDAR:
JUNE/JULY 2018
SUN
MON
TUE
WED
THU
FRI
SAT
JUNE 10
11
12
13
14
15
PREVIEW
7pm
16
OPENING
(Reception to follow)
7pm
17
PERFORMANCE
2pm
18
19
20
21
22
PERFORMANCE
7pm
23
PERFORMANCE
7pm
24
PERFORMANCE
2pm
25
26
27
28
29
PERFORMANCE
7pm
30
PERFORMANCE
7pm
JULY 1
CLOSING
(Reception to follow)
2pm
BIOS

JOSEPH KESSELRING (Playwright) – Joseph Otto Kesselring was born in New York City in 1902. His career spanned from singing, academia, performing, producing, and writing. He acted professionally in Gentlemen Prefer Blondes. After his marriage to Charlotte Elsheimer, he devoted himself to writing, continuing to pen short stories and initiating his career as a playwright. Between 1933 and his death in 1967, he authored twelve plays—mostly light comedies. His first play to be produced, Aggie Appleby, Maker of Men, premiered in 1933, and four later plays were produced on Broadway, among them, Arsenic and Old Lace (1941). Mr. Kesselring died in 1967.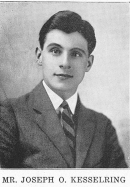 SIRI ELENA (Director) – Siri Elena is delighted to be working with Trinity Theatre Company for her San Diego directorial debut. She received her BFA in Theatre Arts from The Theatre School at DePaul University. SAN DIEGO: A Jewish Joke (producer) at The Roustabouts Theatre Co.. CHICAGO: Crisis Comedy Hour (director) with The Wrights of Spring Festival; Undo (assistant director), Esperanza Rising (assistant director, violinist), Number the Stars (music creative team) with The Theatre School at DePaul University. Much love to her big, loving, eccentric, artistic family for their continued support. www.sirielena.co/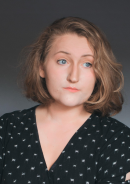 CHRISTINE MCCOY (Abby Brewster) –
ANNA SANDOR (Martha Brewster) – Anna has lived many lives. She fled Hungary for Canada – speaking English for the first time at age 8. Though a successful actress until her mid-twenties, she became a major Canadian television writer. In 1989, she moved to Los Angeles – where her screenwriting garnered many awards, including three Humanitas Prizes and the Writers Guild of America Award. Actors such as Diane Keaton and Kyra Sedgwick have starred in her works. Last September, Ms. Sandor relocated to San Diego and decided to revisit her first love – acting. This performance marks her return to the stage after 43 years.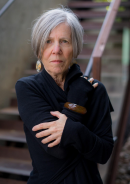 JOSHUA KAHN (Mortimer Brewster) – Joshua is delighted to be involved with Trinity again after appearing in The Diary of Anne Frank. A recent transplant to San Diego from LA and NYC, favorite productions include Small Engine Repair (Chad), Rabbit Hole (Jason), Julius Caesar (Cinna), and an original adaptation of The Decameron performed on a villa in Florence, Italy. BFA from NYU Tisch.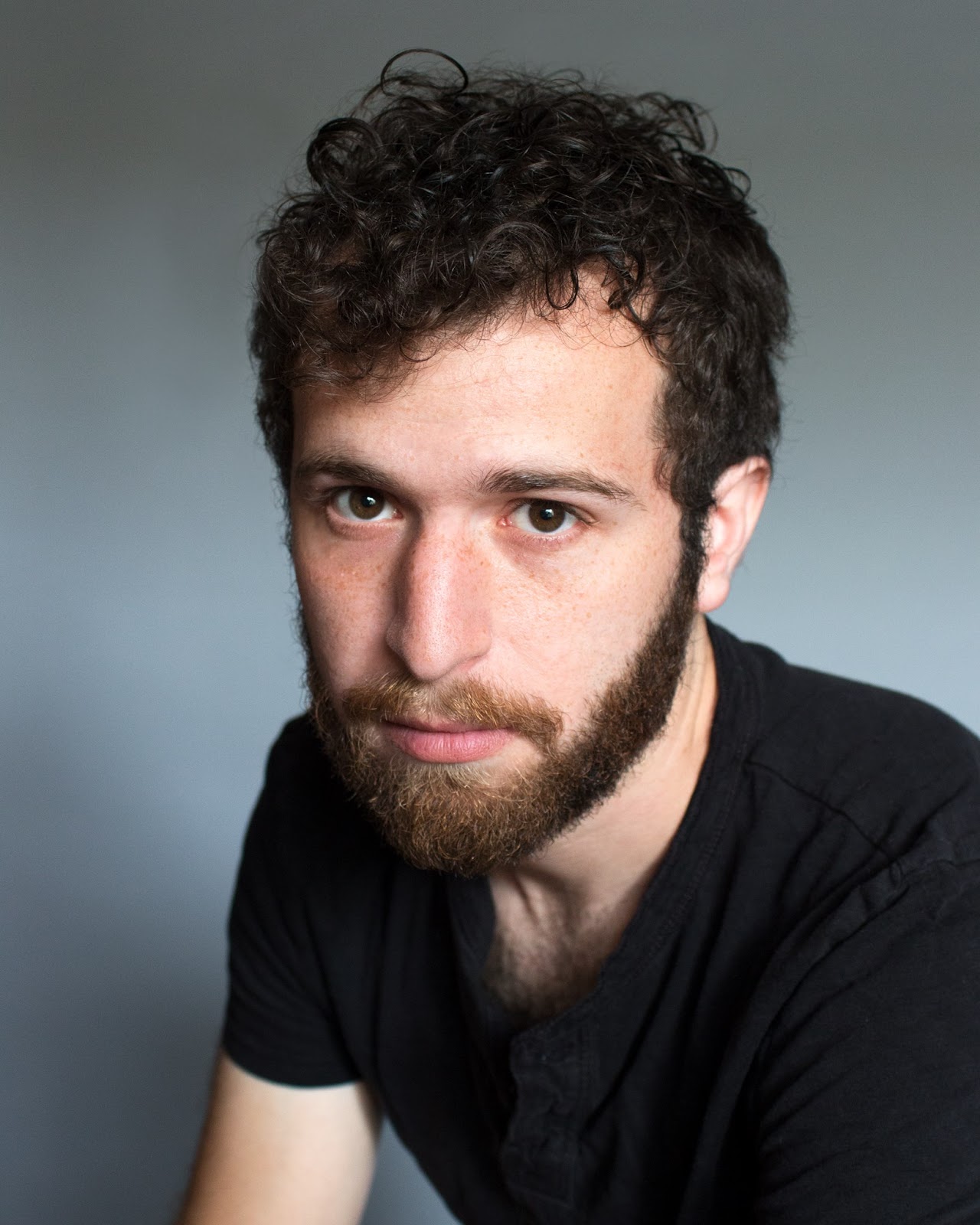 SARA LUCCHINI (Elaine Harper) – Sara is thrilled to be a part of her first Trinity Theatre Company production! She was last seen in Blindspot Collective's Fringe production of UNTOLD and can be seen regularly performing with San Diego's Dinner Detective Company. Sara converted to a So-Cal Gal four years ago after earning her degree in Theatre Performance and Education from Juniata College in Pennsylvania.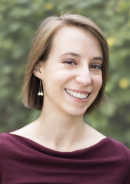 DOUG HENDERSON (Jonathan Brewster) – Doug is thrilled to be doing what he loves once again, and to be making his debut with Trinity Theatre Company. Big thanks and big hugs to  Tom S, my work family NAMI Next Steps for support, and my recovery family, especially Joel, Evan, Nan and David. Love you all. Thank you for always encouraging me to pursue what I love.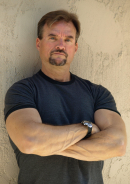 CASSANDRA ORRANTIA (Dr. Einstein)
KATELYN SLATER (Teddy Brewster) – Katelyn, 24, is originally from Minnesota but moved to the San Diego area for school. She graduated this past fall and has since done some work as a teaching assistant in several acting classes and done some crew work at the North Coast Repertory Theatre. Some of her favorite past acting roles include Helena in A Midsummer Night's Dream at the MN SkyVault Theatre Company and Mrs. Gibbs in Our Town at Words Players Theatre. She also loves coffee, folk music, and celebrating stories.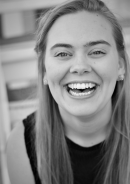 KAREN LUNA (Rev. Dr. Harper / Lt. Rooney) – Karen Luna is very excited to be part of Trinity Theatre's production of Arsenic and Old Lace. Recently she has performed in CAO's production of No Sh*t Sherlock, North Park Vaudeville Ten Minute Madness, and American History Theater Speaking Out Why I Stand. In addition to loving the theater experience Karen enjoys traveling and experiencing new things.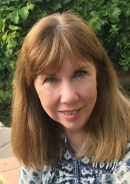 MARK SOLZ (Officer Brophy)
ASHLEY STEWART (Officer Klein) – Ashley is happy to join Trinity Theatre Company for the first time for this performance of Arsenic and Old Lace. Recent credits include Lend Me a Tenor-Vanguard Theatre, Night and Day- 2017 Fringe Fest, Seussical the Musical-Coronado Playhouse, Evita-OnStage Playhouse, and Mack and Mable- Lamplighters.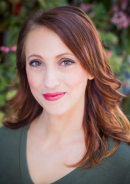 MAXINE LEVAREN (Gibbs / Witherspoon) – Maxine is thrilled to be acting with Trinity Theatre Company. She has previously performed with Looking Glass Theater, The Circle Players of El Cajon, North Park Vaudeville, Inner Mission Productions and several other venues around San Diego. Maxine also paints, writes, travels, volunteers and enjoys time with family, friends, and her dogs.
DILLON THOMAS (Officer O'Hara) – Dillon has performed at several community theaters and schools, including Poway Performing Arts Center, North Park Vaudeville, CSU San Marcos, and San Diego Mesa College. His favorite past roles include Moritz in Spring Awakening and Tilden in Buried Child. He was most recently cast in The Dinner Detective Murder Mystery Show. When not acting, he enjoys playing guitar and tutoring English as a second language, and has also provided editing and translation services for independent films.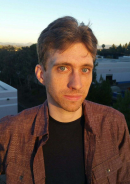 RICHARD COSTANTINOU (Dead Man) – Richard is the Vice President of Trinity Theatre's Board, and serves on many of it's committees.  After retiring from the State, he continues to spend time working around his home, volunteering around San Diego and time at the Magic Castle, where he serves as a magician. He performed in the mid-late 80s, and thanks Siri for the opportunity to be a part of this production. He was recently in a film titled, Dimension Infinity, where he played Hideous Creature #1.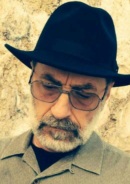 SEAN BOYD (Stage Manager / Artistic Director) Sean Boyd is the co-founder of Trinity Theatre, and has served as Artistic Director since its inception in 2012. He is an associate member of the Society of Stage Directors and Choreographers (SDC), the labor union of professional directors. He holds a BA in Theatre Arts from San Diego State University. He has directed, performed, and stage managed around San Diego, for theatres including North Coast Repertory Theatre and Cygnet Theatre. Much love to Megan, Mom, Dad, Joanne, and Connor.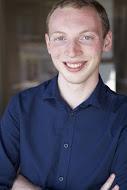 DESIGN TEAM
MASON PILEVSKY (Sound Design) – Mason is excited to return to Trinity Theatre on Arsenic and Old Lace. His previous Trinity project was William Shakespeare's Macbeth. He just earned his BA in Theatre Design and Technology from San Diego State University. In addition to his work at Trinity, Mason has done sound design, music composition, and audio mixing around town at the Cygnet, Moxie, Diversionary, Lamb's Players, and the La Jolla Playhouse, where he interned for two summers. Mason is always looking forward to his next project and hopes you enjoy the show. Find out more at www.mrp-sound.com
SARAH ROBINSON (Costume Design)
JACOB GOLDEN-NEEDHAM (Lighting Design)
SHARONFAITH HORTON (ASM / Props) – Sharonfaith has appeared in many productions, including: 2018 Swan Day (Mae / Naomi, Dir. John Tessmer); The Diary of Anne Frank (Miep, Dir. Sean Boyd), Becoming Dr. Ruth (Ruth, Dir. Sean Boyd); Twelve Angry Men (Juror 10, Dir. Sean Boyd); Martin Luther (Martin's Mother, Dir. Joel Gossett); Drinking Habits (Mother Superior, Dir. Larry Fox); The Third Date (Dawn, Dir. Jim Taylor); Writing on the Rails (Iris, Dir. Stacey Arnold); A Nation of Paine (Beaumarches and others, Dir. Christopher R.). She thanks Siri and Sean for the opportunity. Sharonfaith is grateful for the ongoing support of family and friends.
BACKGROUND
Mainstage Season VI ends with Stephen Adly Guirgis' The Last Days of Judas Iscariot (Nov. 23-Dec. 9). Set in a time-bending, darkly comic world between heaven and hell, The Last Days of Judas Iscariot reexamines the plight and fate of the New Testament's most infamous and unexplained sinner.
About Trinity Theatre Company
Trinity Theatre Company, founded under the artistic leadership of Sean Boyd in 2012, is a growing theatre, providing events to unify friends, family, and the community. In 2017, Trinity Theatre provided theatrical events to 670 patrons, and provided classes and productions for 67 youth artists. Throughout that same year, 59 creative artists volunteered their time to be involved in our productions. Trinity Theatre Company continues to grow, and looks forward to providing more theatrical events to the San Diego community.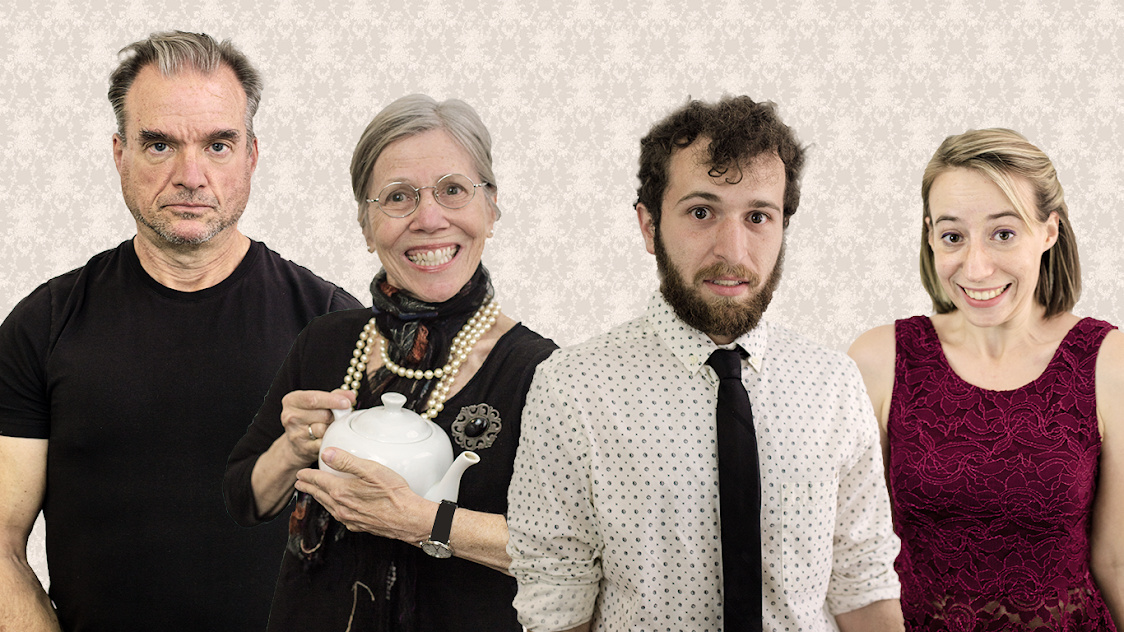 (L-R, Doug Henderson (Jonathan), Anna Sandor (Martha), Joshua Kahn (Mortimer), Sara Lucchini (Elaine))